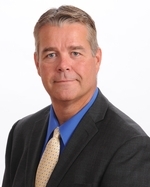 Hi. My name is Tim Branigan and I am a full time Real Estate Broker at CRIS Realty in Frankfort. Purchasing or selling a home is one of the biggest events in anyone's life. It can also be an extremely stressful undertaking. That's why I'm here: To help guide you through the process. I will make a confusing situation crystal clear and help you fulfill your dreams.
My wife Cathy and I moved to New Lenox in 1987 and have been residents of the Lincolnway area since. When our Daughter, Caleigh, was born in 1995 we decided to build a home in Frankfort. We have always been active members of the community through our associations with St. Jude Church & School in New Lenox, Providence Catholic High School, The Knights of Columbus and other community organizations.  We love this area and I would love to help you call it home as well.
In 2015, I decided to join Rick Criscione and the others here at CRIS Realty.  I wanted to concentrate on the Lincoln way area and what better way to do that than to join the BEST agency in the area. Rick sold my first home in New Lenox in 1994 and CRIS Realty has been a leader in the area since it opened.
I am a graduate of the University of Notre Dame and have an MBA in Marketing/Advertising from Loyola University. I have over 25 years of experience in the marketing/advertising industry and those skills translate quite nicely to the Real Estate business. I employ a "hands on", personal, consultative approach that centers on YOU and YOUR goals.  I will listen to your wants and needs and help you find the perfect real estate solution that reflects your desires and meets your financial goals.
If you are interested in buying or selling a home in the Lincolnway area, give me a call. I will explain how I will assist you in navigating the process in order to make it the easiest and best financial decision of your life!